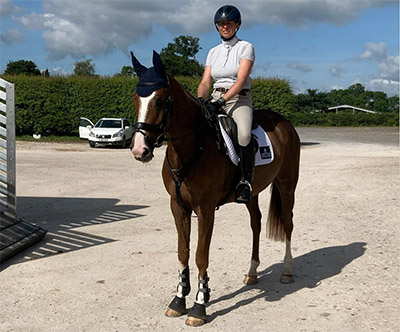 The team had a busy weekend with three days at Kelsall Hill. There were ups and downs but plenty of positives with the youngsters showing the more experienced ones how to do it.
Malbay Master jumped a lovely double clear in the BE80 after a 31.3 dressage score. New ride Swiskey, owned by Molly Jackson and Rupert Neal, completed his first event since coming off the racetrack – he did a 26.5 dressage test, show jumped clear, and was great across country just showing his inexperience at the water/steps.
Head Girl Katy Mousdale and four-year-old Chill Chick jumped a lovely double clear in the BE80, while working pupil Rebecca Cooknell were double clear in the BE90, finishing eighth. Finally, apprentice Becky Murfin tackled and completed her first affiliated event on new ride Burton's Girl.
The novice and intermediate horses only did dressage and show jumping as the ground was on the firm side and they have different goals for the end of the season.