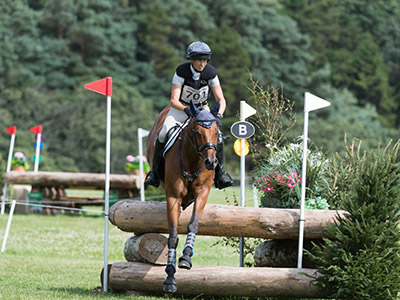 The team headed 5 hours up North this week to the fantastic Burgham International. They got very wet at times but the rain resulted in fantastic going.
Seapatrick Dancing Diamond made light work of stepping up to novice, adding 1.2 time penalties to her dressage score of 24.0 to finish in the runner up spot.
Jack Daniels was running in the 2*S. He was a little cheeky in the dressage, scoring 32.6, before jumping a steady double clear ahead of his first long format at Hartpury.
Travis IV tackled the 3*S, posting a 34.1 dressage score and adding a rail down plus smattering of time penalties to that score.
Finally Dissington Wizzard logged another consistent 3*S run, also with a rail down and clear cross country after a 34.6 dressage score.
Star of the yard, however, was Head Girl Katy Mousdale who rode her own Im The One in the British Novice Restricted Championships, taking the runner up spot courtesy of a 29.4 dressage score completion.
Jeanette & Seapatrick Dancing Diamond © Trevor Holt