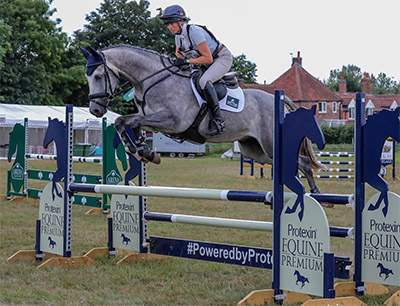 Fiona Saxby's Ludejo (pictured) posted a win in the five-year-old class. He jumped a double clear on a 25.3 dressage score to finish with seven penalties in hand. Sadly for Jeanette he's not a keeper – she was substituting for Issy, who was away competing at Blair.
Future Game of Hearts put in another solid performance in the novice for a top 10 finish – she keeps improving with every outing. Also at novice level and in the lead by six penalties after showjumping Jeanette chose to save Seapatrick Dancing Diamond for another day.
Jeanette admitted that it was an honour to ride Killy Puissance for the late Danni Meehan – posting a 31.5 dressage score and foot perfect double clear to finish fourth, albeit hors concours, in a BE100.
Finally, working pupil Becky Cooknell and her own Sultan won their first rosette in the BE90, finishing fifth – the result of much hard work.