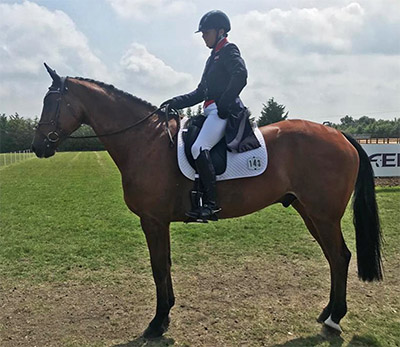 It was a fun and educational few days away at Keysoe International – the courses were tough but fair, encouraging forward riding.
Sally Hayward's Jack Daniels stepped up to do his first International in the 2*S at Keysoe. He did a good dressage test, scoring 26.6 but went a bit green in the showjumping, hitting an uncharacteristic two poles down – the first he's touched all season. He then stormed round the cross country, coming home bang on the optimum time.
Travis IV (pictured), owned by Sally Bowler, also had a couple of rails after a dressage score of 34.7 – but made up for it with a great cross country clear.
Dissington Wizzard was another to have two rails down after a 34.4 dressage – and then picked up an uncharacteristic 20 penalties early on the cross country. It was his first 3*S and went on to jump some tough fences and combinations, and gave Jeanette a good feeling as he grew in confidence the further he went.
Despite a good dressage test it wasn't North Astor Cooter's day in the show jumping, so the call was made to withdraw before cross country and save him for another day.
Head Girl Katy Mousdale put in another great performance riding her own I'm The One in their second novice. She added just 0.4 of a cross country time penalty to a 33.5 dressage score to finish fifth in her section.