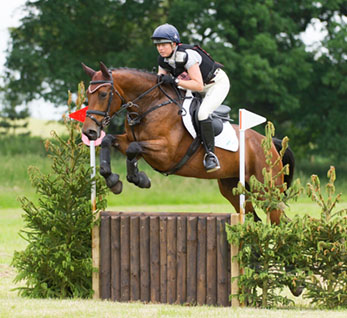 Jeanette had a great weekend at Catton, saying: "It was another fantastic event which was well organised and the ground was nearly perfect!
"All the horses tried very hard and they were all clear cross country. Both the 5 year olds, Primitive Primrose and Stormbays Delight, are really starting to show maturity and confidence at events.
"Our new horse Direct Region, owned by Sally Hayward, posted a good performance with a 28.5 dressage and double clear in the ON which I was very pleased with as this was our first run together; Sally's other horse Cooley Master performed another consistent dressage test (a 24) along with a solid cross country round.
"Kec Salza was on form again and finished a confident 5th in the Intermediate – his next run will be Barbury 2*.
"Unfortunately Ideal Sebastian decided to throw a splint at the grand young age of 15 which meant I didn't run him cross country because I didn't want to aggravate the splint …. Bloody horses!!"
Jeanette & Stormbays Delight © Trevor Holt