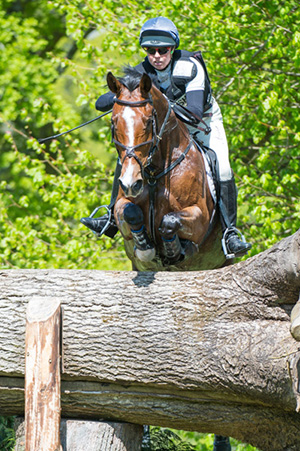 I have had a great week at Badminton Horse Trials. The atmosphere and the venue at this event is just spectacular and it is always a privilege to compete at such a prestigious event.
Lets Dance produced a personal best in her test, scoring 47.8. Her overall test was good – a little tense at times so not always her best work, which is exciting thinking about the future.
As always she was amazing cross country and we received a lot of positive comments from the commentators about our round, which is always very nice to hear. Although she tired at the end she kept trying.
Surprisingly in the show jumping she knocked 3 down which was a shock, as this is her most consistent phase; she usually jumps double clear but became very keen and a little feisty round a testing track.
Overall I was thrilled with her performance as Badminton was her second ever 4* event but most importantly she has finished looking fantastic and has had the first of many lovely days in the field resting today. She is going home for a little break then coming back to me to prepare for the next big one!
I would like to say a big thank you to the team at home for keeping the yard running efficiently in my absence, Ruth Edge for her help in the dressage phase, John Bowen for his overall expertise throughout the week, Kerry Smith for grooming and keeping everything in order, Steph Appleton and Elaine for all their fantastic help, Mark and Yvonne for catering for us all and as usual being great hosts, and to all my owners who came to support me, I am very grateful for all your kind words. Most importantly Ruth Williams who owns Bella; Ruth is a very passionate owner and has always got the horse's best interest at heart and I hope she enjoyed the week as much as I did.
A big thank you to all the volunteers, officials and to everyone involved at Badminton for making it such a special event. Thank you to my sponsors for their ongoing support, Amerigo, KAN teq, Team SPILLERS, Hit air, Elvin and Co, Protexin Equine Premium.
Photo © Trevor Holt