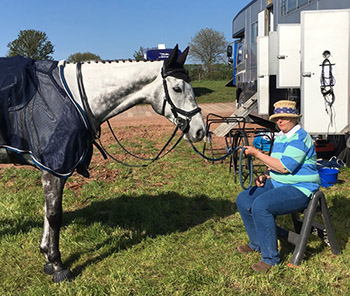 Jill first joined the team in 2010 with Primitive Pistol who jumped clear around Burghley with Jeanette in 2011.
Jill bought Rosie in September 2012 from the Louella Stud. Rosie was broken in by both Jill and Jeanette and she has a great personality – she is often cheeky but is making fast progress and especially loves her jumping. She is proving to be very bold and is looking like a keen contender for the 5yo classes next season.
Jill says: "I love the sense of exploring and developing a horse to the highest level it can achieve. Jeanette has great patience with both horses and owners. She has a no-nonsense approach, developing real relationships with each horse. She's brilliant at bringing out the best in them, whether they are mare, gelding or stallion, big or small, thoroughbred, warmblood or other.
"Jeanette is always adding to her excellent facilities and planning future projects with a hands on approach that I like. She's diligient, hard working, calm and upflappable, with a great sense of humour.
"Jeanette combines riding with problem solving skills. Her calm and focus at a competition is one of the main reasons why she was so perfect for Primitive Pistol who was very hot in the dressage phase. Jeanette rode her perfectly, and she is equally excellent with my young mare.
"It's such fun to be a part of Jeanette's team."