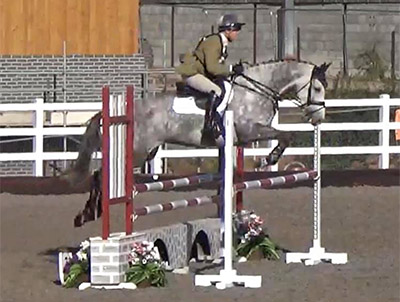 It was a busy weekend for the Team, all staff riding across three days and all the 5 tracks ridden between them.
• Billy Electra (pictured) owned by Mark Johnson and Yvonne Mott lead her Novice section with a 23 dressage and a lovely double clear just a handful of time faults dropping her to 4th.
• Just William XX owned by Ruth and Terry Swinson had a nice easy run round the OI.
• Future Game of Hearts (Darcy) did her first competition, part owned by Jeanette and Julia Hodkin. She showed maturity with a 26 dressage, one rail and steady clear XC in the BE90 open.
• Sally Hayward's Jack Daniels finished 4th in the BE100 on his dressage of 29.
• New Apprentice Bradley had an educational and much improved run in the BE90 on Schrodringer.
• Becky and Sultan had a brilliant 29 double clear in the BE80 at their second ever event.
• Lucy's horses produced lovely tests, Buddy jumping well SJ and XC, but sadly took a dislike to the tree stump out the water.
• Katy won her BE100 section on Conclusive for the second week running, finishing on their 24.3 dressage.