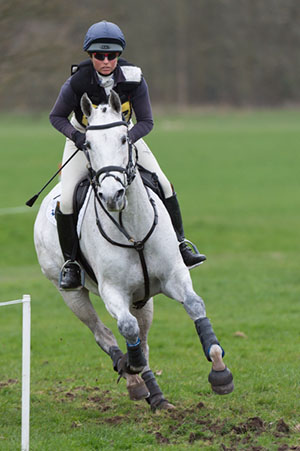 Kelsall produced a mixture of results last weekend. Jeanette had two BE90 first timers, Pencos Premiere owned by Louise Williams (29 dressage and a confident double clear with time to finish 11th) and Tory Massini owned by Sally Hayward (27 dressage, 4 pens SJ and a bold clear XC with time to finish 12th). Jeanette was thrilled with both of them as there were no green moments.
Joanne Brett's Dixie II ran in the BE100 (21 dressage – which included a 10, clear SJ but a naughty stop at a corner XC). Stormbays Delight, owned by Kathryn Tierney, also contested the BE100: 31.3 dressage, 4 pens SJ but cheeky XC, also collecting 20 penalties, this time at the angled hay carts.
In the novice, Sally Hayward's Cooley Master posted a 35 dressage, 4 pens SJ and then sadly just jumped the wrong side of the flag at the corner which meant he was eliminated but in his eyes he went clear.
Not over yet… In the intermediate was Direct Region, also owned by Sally Hayward. He was on top form – 22.7 dressage and a great double clear to win!
For all the horses in the advanced intermediate section it was their first attempt at this level. Forever Red (owned by Mark Johnson and Yvonne Mott) was a bit wound up in the dressage, and rolled a couple of poles SJ but jumped a lovely clear inside the time XC – she is very consistent and bold for an 8 year old. KEC Salza, owned by John Bowen, show jumped clear after a respectable dressage, but picked up a 20 XC when Jeanette's sat nav failed and she had to circle in between fences to be straight for a B element. The star of the section was Joanne Brett's North Astor Rossco who jumped an easy double clear to finish runner up.
Daniel had two horses to ride; BE first timer Pepsi VI, owned by Jessica Turner finish 3rd, while Jill Sackett's Primitive Pistol gave him a lovely clear across country.
Next stop Bradwall.
Direct Region © Trevor Holt