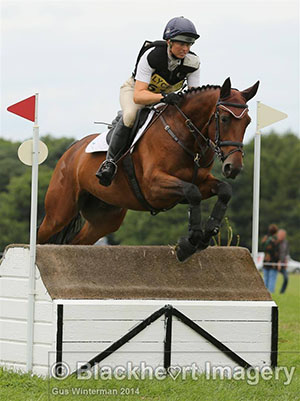 The team were at Bradwall last weekend, an event fairly close to home which is great – no  3am starts! Rain had helped the ground on the XC course, and the volunteers and officials managed to keep smiling even in the wet conditions.
Louise Williams's Pencos Premiere had another good run (21.5 dressage, 4 pens SJ and clear XC), running HC in the BE90 – the same level that Sally Hayward's Tory Massini was tackling (32.5 dressage, 8 pens SJ and another confident clear XC).
Sally's Cooley Master contested the novice, and after a great dressage and an unlucky pole down he unfortunately had a green moment at the spooky water picking up a stop.
In the BE100 Kathryn Tierney's Stormbays Delight (pictured) posted a 28 dressage, going on to finish 8th, while Dixie Two's double clear resulted in a 2nd place. These two will be both making the step up to Novice for their next run.
Dan also had a successful weekend. He was riding Primitive Pistol, owned by Jill Sackett, in the ON and the pair finished 10th. He was also competing at Withington on Saturday in the OIU21, posting a 29.8 dressage score, jumping a double clear – and winning the class!