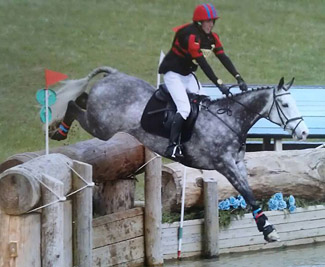 Ideal Sibelius ran at his first ever 2* at Barbury. After a tense dressage test in a big arena, scoring 54.2, he jumped a confident double clear which Jeanette was thrilled with.
Forever Red, owned by Mark Johnson and Yvonne Mott, also tackled her first 2*, scoring a mature 49.6 in her dressage. She then had 4 penalties show jumping, due to her lack of attention at the first fence but jumped clear cross country; she is showing a lot of promise for a 7 year old.
Kec Salza owned by John Bowen scored an impressive 45.9, had 4 penalties in the show jumping and made the cross country feel easy, jumping a bold round.
But the star of the weekend was head lad Daniel Alderson riding Cloud Atlas. They have been showing improvements throughout the year and in a stiff 2* section he earned a 43.5, added 8 penalties show jumping and then flew round the cross country to finish in 9th place.
Picture: Daniel and Cloud Atlas