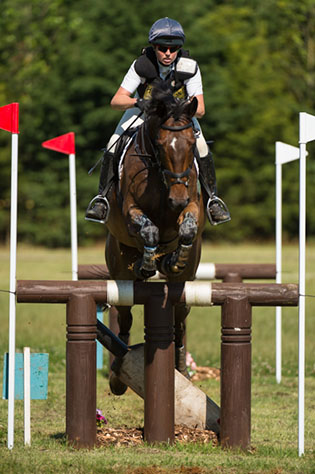 Jeanette a rather wet but enjoyable weekend at Aston, although the rain did help the ground which was a bonus.
She had 4 horses competing in the advanced. Ruth Williams's Lets Dance scored a 32.0 and rolled a pole but, as ever, gave Jeanette an amazing feeling across country. John Bowen's KEC Salza matched that, pretty much stride for stride.
It was North Astor Rossco's first advanced, and he made it a good one for owner Joanne Brett. After a 35 in the dressage he jumped a very smart double clear which is exciting for the future.
Forever Red was contesting the 8/9 yo class. Owned by Mark Johnson and Yvonne Mott, she did a 36.8 dressage, was unlucky to role two poles, and followed that with a confident cross country clear – always exciting from an 8 year old.
Joanne's Dixie Two and Kathryn Tierney's Stormbays Delight then contested the novice. Dixie Two finished 6th and Stormbays Delight 5th which was a great performance by them both.
Jeanette & KEC Salza © Trevor Holt