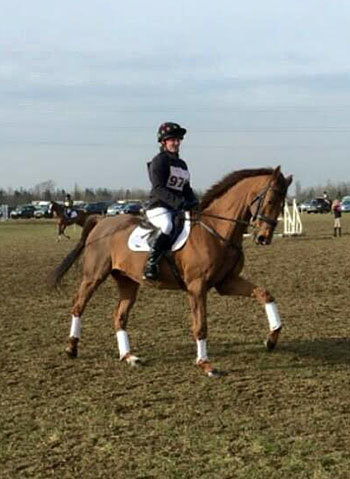 Jeanette's 2016 season kicked off where 2015 ended, at Oasby. She had five runners, all of whom did low 30's tests (bar Fallon III) and made light work of the cross country:
"Oasby was a great start to the season for us all. Considering how much rain we have recently had the ground was very good and all the horses loved being back out at a party! Again Oasby was well run and a great confidence giving cross country course to start us all off as we mean to carry on.
"On Friday I contested the ON sections: Beanie McBean, owned by Isla Bennett – 33 dressage, 4 pens SJ, easy clear XC with time which was a great run for our first event together. Forever Red owned by Mark Johnson and Yvonne Mott – 32 dressage, cheeky 4 pens SJ and a super clear XC with time. Let's Dance, owned by Ruth Williams, 35 dressage (as it was too exciting to be out competing to concentrate) and an effortless double clear with time. Dan was competing in the OI riding Jill Sackett's Primitive Pistol – 35 dressage followed by a fluent double clear with time. 
"We returned on Sunday. I rode Sixth Proposal owned by Sam Smith – 31.5 dressage, 4 pens SJ and clear XC with time in the 90. Fallon III was in the 100 – 24.5 dressage, 4 pens SJ and clear XC with time to finish a super weekend by being placed 7th. Cassie also had a great run on her own Killernan Prince – 31.5 dressage, double clear with time to finish 4th. Her day was also made even better as we took the main man, Over To You, for a jolly and Cassie rode him round the dressage warm up (pictured) which they both loved!
"It was great to be back out eventing again after a long winter. I would like to say a massive thank you to all the volunteers, officials and organisers who will be giving up their time for free to help run these fantastic events – your time and effort are very much appreciated.
"Also a big thank you to all my sponsors Kan Teq, Protexin Equine Premium, Team SPILLERS®, Zebra Products and America saddles, not forgetting my fantastic owners who make it all possible and so enjoyable for me. I hope everybody has a great season and you all achieve your goals this year. Good luck."