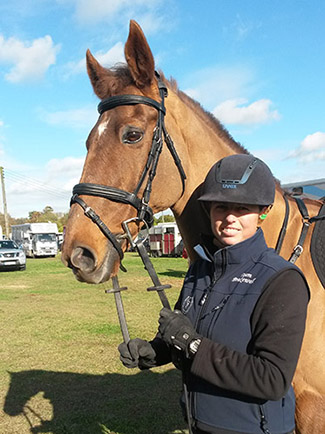 Stable name: Jack
Sex : Gelding
Height: 16hh
Foaled: 1988
Sire: OVER THE RIVER
Dam: ANOTHER MILLER
Total Points: 2170
Owner: Jeanette Brakewell
Jack aka 'Sprut' it still a legend to this day. He is as keen as ever to be ridden and he definitely runs the yard. Everyone's attention is always focused on him; and so it should be, we think!
He acts as nanny to the young horses in the yard and, at the age of 32, still hacks out regularly. He remains the most medalled British horse in Eventing history.
Top results – Senior Team:
EuCh, Blenheim 2005: 12th + team gold
Olympic Games, Athens 2004: 14th + team silver
EuCh, Punchestown 2003: team gold
WEG, Jerez 2002: individual silver + team bronze
EuCh, Pau 2001: 12th + team gold
Olympic Games, Sydney 2000: 9th + team silver
CCI4* (now 5*)
Badminton 2007: 14th
Burghley 2006: 7th
Badminton 2006: 4th (dressage score completion)
Badminton 2005: 5th (double clear)
Badminton 2004: 7th
Badminton 2003: 3rd (dressage score completion)
Badminton 1999: 9th
Badminton 1998: 16th
British Championships:
Open Championships 2007: 13th
Open Championships 2006: 9th
Open Championships 2005: 6th
CCI/CIC3* (now 4*)
Tattersalls CIC3*W 2008: 13th
Burnham Market CIC3*W 2008: 19th (double clear)
Burnham Market CIC3* 2007: 6th
Chatsworth CIC3* 2000: 7th
Luhmuhlen CCI3* 1999: 9th
Blenheim CCI3* 1997: 7th (double clear)
Bramham CCI3* 1996: 7th